Description
MOROCCO, WESTERN SAHARA PROVENCE, MAURITANIA, SENEGAL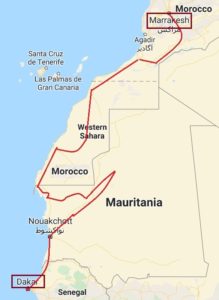 Experience the Sahara, the largest desert on earth, with a north-south crossing, off the beaten path, over virgin sand dune belts, continuing into the savannah.
Marrakech, modern international destination and ancient caravan terminal is the ideal departure point for our expedition. In the Western Sahara other travellers don't arrive and nomadic tribes of camel herders are authentic. Drive on the endless beaches of Rio de Oro to discover an astonishing landscape where the ocean floods in the desert: rocky hills and dunes, during the hight tide, becomes temporary islands. In Mauritania drive through virgin sands to discover remote oasis and stone citadels dating back to the 13th century as Chinguetti with its ancient collection of manuscripts and Ouadane the remotest of the oasis and further still to explore the geological mystery of Guelb Es Richat. Arrive to the northern savannah of Black Africa, encounter zebu herders, grass roof conical villages and tall Baobab trees.
Be on the Western point of the African Continent. Meet salt diggers and a fishermen village with thousands of colorful pirogues.
Enjoy traditional villages and contemporary Africa: metropolitan life in Dakar is vibrant: live music, galleries, meeting with young talents of the artistic scene, graffiti and street art.