Description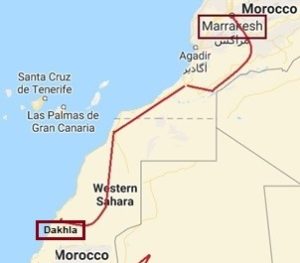 MOROCCO, WESTERN SAHARA PROVENCES, RIO DE ORO
A great expedition that crosses part of the Sahara from north to south. Starting in Marrakech and ending in the Rio de Oro region. The itinerary is the outcome of many years of field research and cross the former Western Sahara, now Moroccan Sahara Provinces that was closed to travels for decades due to a long "sands war" between Polisario Front and Moroccan army. We are proud to be the firsts to operate expeditions in this unknown region.
TIME TRAVEL: FROM PREHISTORY TO RECENT TIME.
Marrakech, traditional "caravan terminal" is the right starting point for our "modern caravan". Thousand year old fossils, prehistorical Rock Art, historical sites as Dakhla the former headquarters of Spanish Rio de Oro colony are part of a travel experience in space and time.
TRIBAL CULTURES.
Western Sahara sands are home to the Moorish camel herders and the best place to encounter the legendary Reguibat nomads. Fishermen lives on the edge, between the desert and the ocean.
NATURE.
Experience travelling along the "uncertain border" between land and water, dunes and Ocean. Following a "flyway" in the time of bird migration, will be a constant reference along the whole itinerary, in the time when millions of birds leave Northern Europe and Russia to Africa during their winter season. Travelling North to South, or vice versa, is a continuous change of latitude, climate, flora and fauna: from the green side of the Atlas Mountains to the rare or absent vegetation of the Sahara to the green miracle of the oasis. Some unexpected micro-climates are created by the moist winds from the ocean on the dry desert environment: a multitude of "spontaneous gardens" with flowers, succulents and lichens formations.