Description
SIERRA LEONE & LIBERIA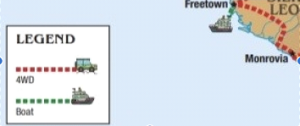 Be among the elite of international travellers that have discovered the les least visited countries in West Africa.
In Freetown and Monrovia the Kriol culture has expressed a unique architecture and symbols of power in the countries of the freed slaves.
Freetown, a large and colorful town; capital of Sierra Leone the first British colony in Africa with the oldest university in this part of the continent.
Monrovia is the capital of the oldest independent republic in Africa. Liberia has never been a colony, already in 1847 was ruled by a Black president, the Afro-American Roberts born in Virginia and part of the Kriol settlers, considered the founders of the nation.
Discover Freetown peninsula where the forest frame the more spectacular beaches of West Africa and Banana Island is a pristine paradise. Discover secret diamond seekers sites. Witness the animistic ceremonies of the women secret society and a rare female masks dance.