Description
SENEGAL, GAMBIA & GUINEA BISSAU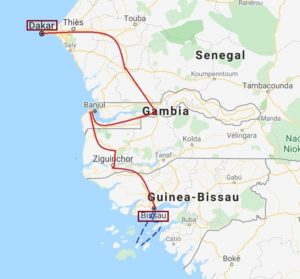 A discovery itinerary rich in live anthropology, history and prehistory in a perfect balance of drive and navigations. Starting from Cap d'Almadine in Dakar, the western point of African continent. Going South and East: Gambia and his birds, Casamance and the animistic mask dances, navigating to Bijagos remote Archipelago.
The itinerary, part of the  Grand Expedition across West Africa, will be adventurous and enjoyable. Transport in in comfortable air-conditioned 4WD vehicles and minibuses. On Ocean and lagoons: speed boats for major navigations and local boat for short sails.
Accommodations: in the capitals, 4 stars hotels with possibility to upgrade to 5 stars. In the inland the best available: mainly new 3 stars hotels with self-contain and air-conditioned rooms.