Description
Special Events: Dipo initiation rite, Awukudae & Aboakyer festivals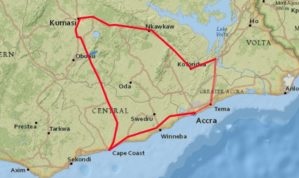 A unique amazing journey where we attend three of the most important festivals of the country.
The Krobo region is famous for its pearls and for its initiation rites which only apply to girls – Dipo is the name of the  "process" through which a young girl becomes an adult woman, fully integrated within her society.
Aboakyer, also known as the 'deer hunting festival', is organized in honor of the tribal God of Winneba, a fabulous opportunity to experience the climax of a Fanti festival.
Awukudae is the exceptional traditional ceremony of the Ashanti people, taking place on specific dates and celebrating the traditional chiefs in an incredible display and abundance of gold..