Description
Special Events: Dipo initiation rite, Awukudae & Aboakyer festivals
TRAVEL WITH THE ANTHROPOLOGIST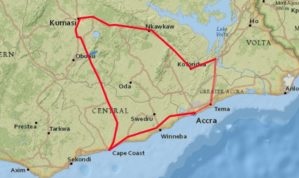 A unique amazing journey where we attend three of the most important festivals of the country.
The Krobo region is famous for its pearls and for its initiation rites which only apply to girls – Dipo is the name of the  "process" through which a young girl becomes an adult woman, fully integrated within her society.
Aboakyer, also known as the 'deer hunting festival', is organized in honor of the tribal God of Winneba, a fabulous opportunity to experience the climax of a Fanti festival.
Awukudae is the exceptional traditional ceremony of the Ashanti people, taking place on specific dates and celebrating the traditional chiefs in an incredible display and abundance of gold..
BIOGRAPHY – Carlotta Zanzottera, anthropologist
"If culture is not the same as 
cultural change, then it is nothing at all"
I would like to introduce myself with the following anecdote which happened when I was six years old:
Teacher: "which job would you like to get?"
Me: "I want to be an anthropologist"
"What's that?"
"I want to travel to Africa and meet and talk to people"
"You mean a missionary" 
"No, I mean an anthropologist".
Back then I've just returned from my first trip to Africa when I decided that I would have done this for the rest of my life….somehow…little then I knew, I took a Bachelor's in Philosophy at Milan University  and a Master's in Cultural Anthropology at Utrecht University.
My field of expertise is cultural change which I study through the lens of migration and globalization. I have done research on topics such as female initiation rites in modern Zambia and Ghana, the sense of identity of Turkish-Dutch second generation and the issues of integration of Eritrean unaccompanied refugee minors in the Netherlands.
Since a year I work with TransAfrica, going back where I started from: West Africa