Description
GUINEA BISSAU, GUINEA CONAKRY, SIERRA LEONE, LIBERIA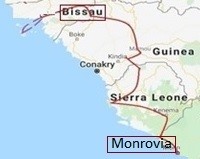 Starting with an exciting navigation to the Bijagos remote Archipelago, discovering the les known part of Guinea Bissau with a "tribal concert" of the Griot: descendent of traditional musician and story tellers lineage uninterrupted from 12th century.
Following the coast and inland of Guinea Gulf, between pristine shores and islands. Experience remotes forests where foreigners don't arrive, mountains, animistic rituals and secrete female society.
Participate to the contemporary African vibe: stroll in the intense city life of Freetown, Monrovia, feel the exciting mix of modernity, culture, music and fusion cuisine.
Part of the Grand Expedition across West Africa, this unique experience will be adventurous and enjoyable. Transport in in comfortable air-conditioned 4WD vehicles and minibuses. On Ocean and lagoons: speed boats for major navigations and local boat for short sails.
Accommodations: in the capitals, 4 stars hotels with possibility to upgrade to 5 stars. In the inland the best available: mainly new 3 stars hotels with self-contain and air-conditioned rooms. One night at a fix and cosy camp in the luxuriant vegetation of an island.