Description
GHANA, TOGO & BENIN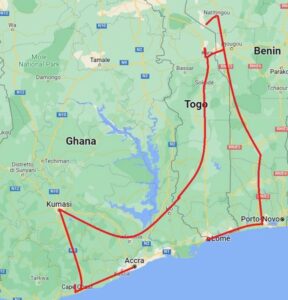 Our fantastic cultural odyssey to the most remote regions of Ghana, Togo and Benin to discover lost tribal worlds ruled by traditional chiefs and ancient spirits.
Along the coast, in the heart of voodoo original regions we encounter practitioners, watch trance-dances and learn about the great influence voodoo spirits still have on people.
Heading inland from the forest to the savannah, we discover the Taneka tribe on a rocky mountain, the Somba with their fairy-tale clay adobe castles, then an intriguing witches' village and finally, we enter the Ashanti kingdom in Kumasi forests.
We end our tour exploring the former Gold Coast, with the largest European castles in Africa; centuries remain of gold and slave trade.
Indeed, the most complete and spectacular way to discover West Africa rich patrimony of Tribes, Kingdoms, festivals, and ceremonies
For travellers who want to get acquainted with this unique region … and love Africa!
What is Special about the trip
Yam Festival (Benin) Yam is one of main ingredients of the stable diet in West Africa. In August, the population of Central Regions of Benin gather around notables and kings to celebrate a ritual of continuity. Eating together the new tubers bring two meanings. One the one hand it means thanking the gods and the ancestors for the good harvest and on the other hand it means asking for this to continue for the coming years. The festival goes on with dancing masks and voodoo celebrations.
Apart from this main traditional event, participants to the tour will always attend the following events:
– an interesting voodoo ceremony
– a spectacular fire dance
– an "Ashanti funeral": festive celebration that consecrates the return of the spirit of an ancestor.